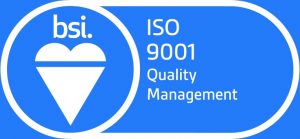 FM 621325
QMS002
QMS002 Quality Policy
AT Engineering Technology Ltd (formerly AT Engineering) was founded in 1988 with the objective of become a leading UK provider of engineered solutions.  The strategic direction of the business is to maintain and expand the current customer base whilst keeping abreast with new technology. The core values of the company are flexibility, whilst maintaining an approachability for local and historic customers. The organisation is committed to delivering reliable, high quality, cost-effective services and products which exceed customer expectations.
To achieve this, management has implemented a Quality Management System that satisfies the requirements of the BS EN ISO 9001 International Standard, as well as other applicable requirements. The company have been registered with a UKAS approved company since 2010 and in more recent years with BSI.
All personnel understand the importance of Quality and abide by the procedures outlined in the Quality Management System, as well as relevant statutory & regulatory/legal requirements. Management ensure that all personnel in the organisation are fully dedicated to the Quality Management System and their individual objectives and responsibilities.
AT Engineering Technology Ltd are therefore committed to continually improve using a number of Key Performance Indicators.
This Policy and the measurable objectives contained within the Quality Management System are continually reviewed for suitability at regular Management Review Meetings.